Updated Calendar Service
Coming Soon!
There are big updates coming to the Calendar Service in the next week or two.

First off, we have made the calendar full width. That means your calendar now fills the entire width of your browser! We have also improved the calendar navigation - making it easier for you to switch between months, weeks and days. You can also quickly jump to any day using the mini calendar on the left. We have modernized and simplified the color settings. You can easily manage and change your color settings by going to 'Colors' under 'Maintenance Options'.

You can now color code all meetings, events, appointments and lessons making your calendar quick and easy to read. We have also added new holiday icons and more!
Improved Look and Feel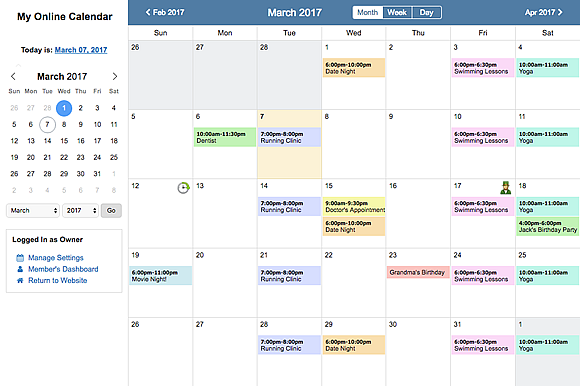 Old Look and Feel
You'll Notice Some Features are Removed
To bring the Calendar service into modern times, we've removed a few settings that you might be used to:
The only color settings that will apply will be for the new toolbar. The calendar views will no longer be affected by things such as previous background color settings.
Service width settings no longer apply. The new calendar user interface is designed to take up 100% of your browser dimensions.
Since the calendar is now 100%, the design of your calendar may affect your custom HTML header and footer.
Event icons have been replaced with event color codes instead. Modern calendars make it easy to peruse events with color codes. The trade off was to get rid of event icons.
You'll Notice Some New Features
Improved liquid layout for Calendar.
Improved quick navigation for hopping around your Calendar.
Improved user flow for viewing and editing events within the Calendar.
Edit all events in a recurring series from Calendar.
Modern, new icons to represent holidays.

Stay tuned for these Calendar changes within the next couple of weeks!